I. WHAT IS A CENTRIFUGAL EXHAUST FAN?
Centrifugal exhaust fan is a type of fans commonly used for absorbing odors in the kitchen where there has narrow space to circulate air from one place to another. It is usually smaller in size than the product coded "LS003 – HU" for Air shower.

II. CENTRIFUGAL EXHAUST FAN "LS005-DQ":
Understanding customers' demands, Cuong Vinh has launched another product among in the catagory of Cuong Vinh's 1-phase centrifugal fan/ shell type fan named as LS005 – DQ.
With a sophisticated design and standard specifications, the centrifugal exhaust fan LS005 - DQ is currently a product trusted and used by many businesses. Despite its small size in design, this product has an impressive speed that can reach at 2,800 rpm and have negligible noise.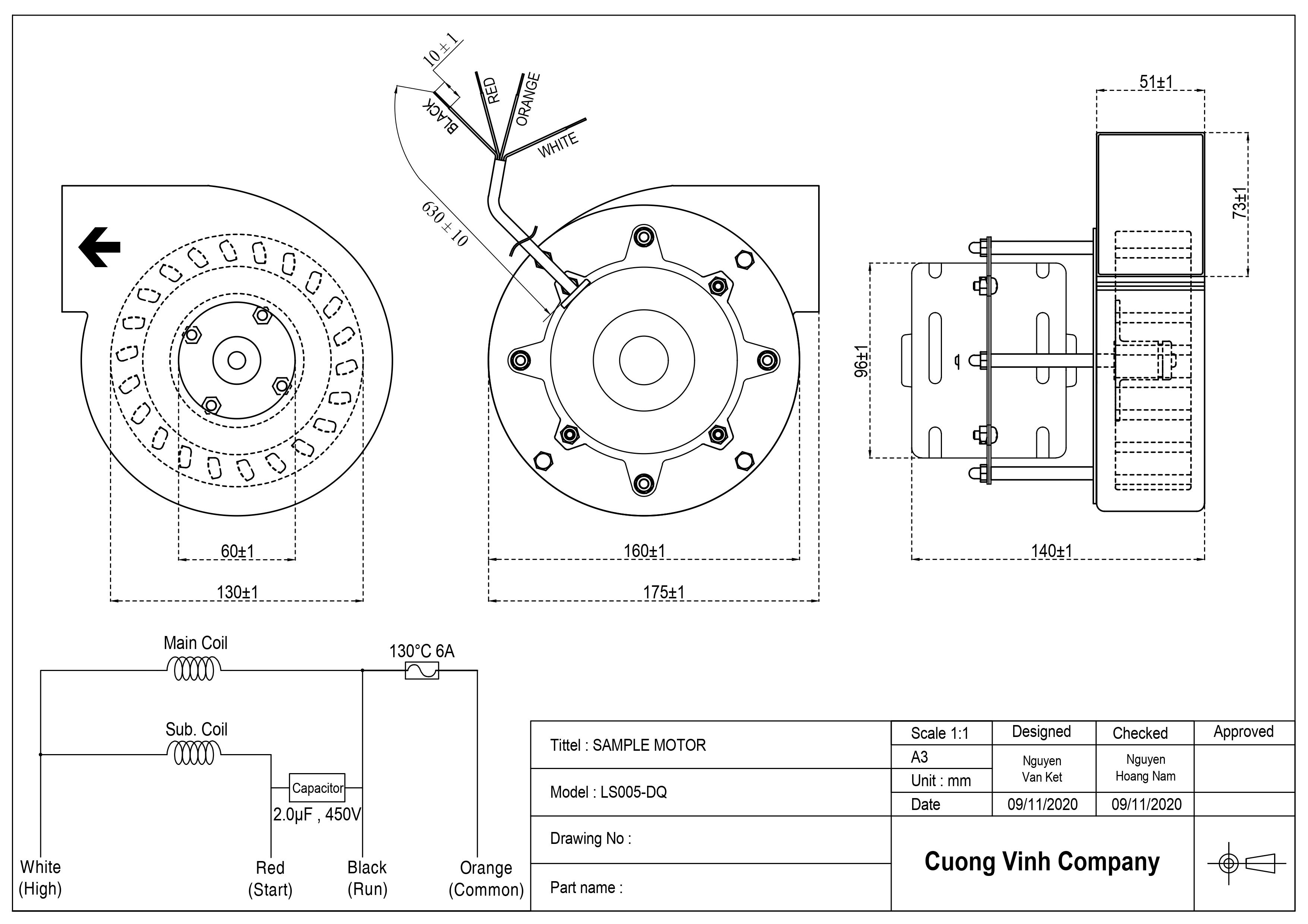 III. STRUCTURE OF CENTRIFUGAL EXHUAST FAN "LS005-DQ":
The structure of the centrifugal exhaust fan LS005 - DQ is quite simple, including: fan body, fan blade and motor.
1. Fan body:
The fan body is made of stainless steel, that can make the appearance of the LS005 - DQ look more beautiful in design.
2. Fan blade:
The fan blade used for the LS005 - DQ is the cage also made of stainless steel and the entire fan blade of Cuong Vinh is dynamically balanced (gravity when rotating) that can help either increasing accuracy, or stabling the device when operating as well as prolonging the operation of the product.
3. Motor:
The cover of LS005 – DQ motor is designed with 7-color iron, not just that, the motor core is made of C45 steel which is an alloy steel with a high carbon content of up to 0.45%.
​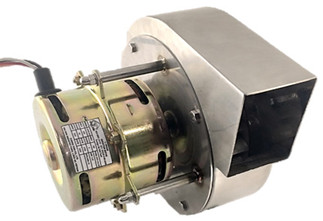 ​ ​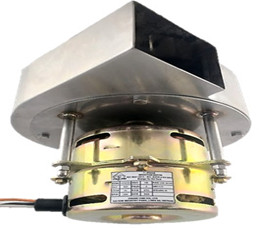 ​
Motor of Centrifugal exhaust fan of Cuong Vinh Company
IV. APPLICATION OF 1 PHASE CENTRIFUGAL FAN "LS005-DQ":
Today with the need for air filtration and cooling, centrifugal fans are an indispensable part to perform that task. Centrifugal fan LS005 – DQ is used a lot in the field of odor extraction such as kitchen hood, toilet exhaust, etc.
Not only that when we go to eat in BBQ restaurants, but when they use the under-table grill, we can see that there is no smoke because they have installed a Shell Type fan underneath, so the smell of food will be completely sucked to the bottom through the outlet pipe, customers can enjoy grilled hot pot dishes without smoke and unpleasant odors clinging to people.
Centrifugal fan LS005 – DQ is also used a lot for food industry, now there are many food dryer manufacturers trusting and ordering, the main use is to suck the air in dryer devices.

V. STRENGTHS OF CENTRIFUGAL EXHAUST FAN "LS005-DQ":
Unlike other products on the market, the centrifugal exhaust fan LS005 – DQ is made of stainless steel, so the product will have a higher durability than other similar ones.

LS005 – DQ is a compact single-phase centrifugal fan designed to be used for absorbing odors, suitable for environments with small spaces such as classrooms, offices, living rooms, kitchens, etc.

Especially, the LS005 - DQ is designed with low heating, operating environment can be from 50 - 60 degrees Celsius.

Almost all Cuong Vinh products are QC checked and guaranteed for 12 months, customers can be assured of the quality.

With the mission of constantly improving and developing, the 1-phase centrifugal fan LS005 - DQ is one of new products launched by Cuong Vinh, not only stopping at large-capacity centrifugal fans, but also there are centrifugal fans with smaller capacity with more eye-catching designs, and especially Cuong Vinh can also design according to desired needs of customers.

In addition to the product "LS005 - DQ", Cuong Vinh has a number of other centrifugal fan models such as: exhaust centrifugal fan, smoke extraction centrifugal fan, dust extraction centrifugal fan, mini centrifugal fan, exhaust fan centrifuge, etc…

To have a better understanding of this product, its features, usages and technical solutions, please contact us (+84.932.771.328 – Mr. Dat), for best support.