GENERAL INTRODUCTION OF INDUSTRIAL FANS
----o0o----
I. UNDERSTANDINGS OF INDUSTRIAL FANS:
Industrial fan is a type of fan that is designed firmly with a large capacity motor along with a big size of fan blade to create a large amount of wind circulating the air at high speed. Compared with civil fans, industrial fans produce more stronger air flow when operating. Therefore, the fan size and fan blade tend to be bigger than other household fans. The size of industrial fan blade can be up to 750 mm.
Application of the industrial fan is to provide the great amount of wind, fresh or cooling air, that can be found commonly in areas with large spaces such as factories, large halls, restaurants or garden coffee shops, etc.
​

​
II. CLASSIFICATION OF INDUSTRIAL FANS:
1. Industrial cooling fan:
Industrial cooling fan has a cooling effect thanks to the electric current rotating the fan blade that create a flow of air to dispell hot air around and make room being fresher or cooler. These types of industrial fans with cooling function have a variety of designs such as: Industrial floor fans and industrial standing fans, both are placed directly on the floor; Industrial wall fans for hanging fixed on wall; and Industrial wheeled fans with low height like floor fan but fitted with a wheel system for easy movement.

1.1. Industrial standing fan:
It is a fan type with a base, which can easily be moved from one place to to others.
Pros: Flexible, cost-effective because it can be easily relocated.
Cons: Take more space than other fans, easier to fall down when being moved too much.
1.2. Industrial wall fan:
It is a fan type without a base, commonly fastened to the wall.
Pros: Save space, limit the possibility of falling.
Cons: Difficultly move to another location, so more industrial wall fans are needed in the same large area for cooling.
1.3. Industrial floor fan:
In some places, it is also called kneeling fan. Similar to other related fans, industrial floor fans with their good looking design and affordable price are favored by the offices.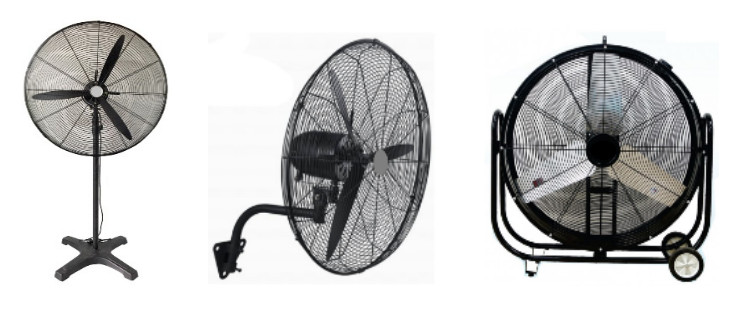 2. Industrial ventilation and exhaust fans:
It has the effect of circulating air, removing toxic gases, sucking odors or smokes, dust,s heat radiation, etc., then bringing back more fresh and oxygen-rich air from the outside to the inside. These types of industrial fans with the task of ventilation and air intake are actually exhaust fans, large-capacity ventilation fans.
​

​
3. Industrial blower fan:
It is known as air blower, mainly used to diffuse the air in aquaculture or wastewater treatment, etc.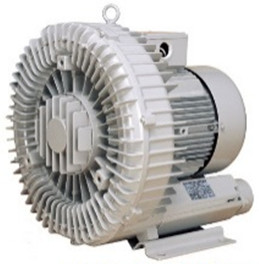 ​
III. STRUCTURE OF INDUSTRIAL FAN:
Fan base: made of solid 4-sided cast iron, anti-broken.
Fan blade: made of 3-leaf die-cast aluminum
Fan motor: made of 100% copper wire
Fan body and fan guard: made of steel
The majority of industrial fans are designed with galvanized steel or stainless steel, and coated with an anti-corrosion coating that can increase the durability of the fan when used in high humidity environments, to prevent corrosion of the fan's shell.

IV. ADVANTAGES AND DISADVANTAGES OF INDUSTRIAL FAN:
1. Advantages:
Firm design.

Large wingspan.

High power.

Large wind flow → Meet the needs of cooling and ventilation in large or crowded areas instead of using many small fans to save costs.

Usually have greater durability than household fans (due to large vibrations, the industrial fans can be designed to be more solid and durable than other conventional fans) → Can be used be for long term.
2. Disadvantages:
Loud noise.

Heavy weight.

Takes up space → Hard to move compared to household fans.

Large power consumption.

V. APPLICATIONS OF INDUSTRIAL FANS IN LIFE:

With the above characteristics, industrial fans are more suitable for large or crowded spaces such as factories, warehouses, shops, restaurants, basements or tunnels, etc. than in houses with smaller spaces. The application of industrial fans can also be used in farmers which specialize in raising poultry, cattle, etc.
Industrial fan motor, an electrically motivated part through the principle of electromagnetic fields, is known as the heart to create wind power for the industrial fans. Today's industrial fan motors are produced with strict standards for motor performance, vibration and noise in operation. For that reason, the quality of industrial fans is found to depend on some key factors: vibration, weak noise and less heat generation during usage.

For more details of industrial fan motors, please reference to this link here: Industrial Fan Motor