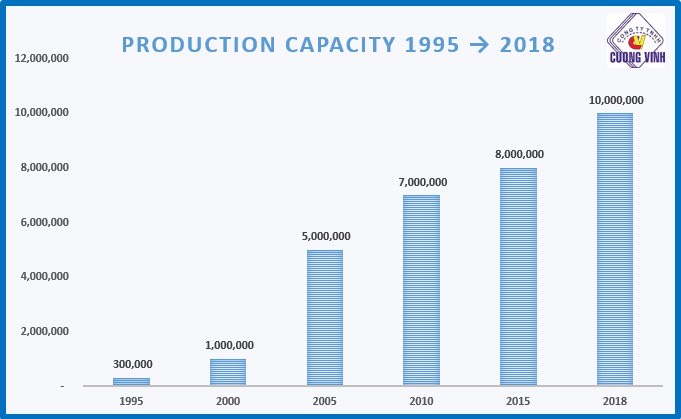 Cuong Vinh Manufacture and Trading Co., Ltd was found in 1995, specializing in manufacturing all kinds of electric motors and electric fan motors. Top company mission is delivering to our clients the safety, quality, execution time and optimal solutions in the field of electrical equipment supply.
With more than 28 years of establishment and development, Cuong Vinh invested in building a factory equipped with modern machinery and equipment, with an area of 47,000 m², to enhance production capacity reaching over 10 million products per year.
Cuong Vinh has successfully applied and operated Quality Management System in accordance to ISO 9001:2015. With the desire to deliver the best products with the most reasonable prices, the Company has always focused on quality improvement and prestige with our clients in the supply and after-sales service.
Currently, 65% of company products for export and 35% for domestic market. All the products have also gained both local and foreign clients' confidence and trust.
- In domestic market: Cuong Vinh has supplied motors to a great number of well-known fan producers as follow:
The North: GALE, AIDI, TICO, Hanoi Electro (HEM), Mactech, Viettech, Nagavina, The Long, Simon, Hoang Ha, Vonta, Sino...

The Central: Ham Rong, Bang Ngoc, Van Phuong...

The South: Bifan, Senko, Yanfan, Lifan, Onchyo, Superwin, Bach Long, Hung Phuong, Viet Air, Lavita, DQTech, Vinaorganic...
- In international market: our products are exported to over 10 countries
Asia: Philippines, Malaysia, Thailand, Indonesia, India, Taiwan, Banglades, Myanmar, Jordan, Japan, Korea…

Africa: Nigieria, Egypt…

America: Cuba, Brazil…

Mutinational companies: Midea Group - China, Sensho - Japan, Nichiden Seiki - Japan...
Beside traditional products including civil and industrial electric fan motors (capacity from 10 Watt to 500 Watt), Cuong Vinh has supplied a wide range of industrial motors (capacity < 500 Watt) such as: motors for massage machines, air conditioners, food dryers, shrimp feeders, rolling doors…
Cuong Vinh is honoured to own more than 100 engineers and over 900 professionally trained, experienced and long-term workers. In particular, a team of dedicated and professional sales staff always work to meet all the needs of our clients and gain their highest satisfaction, according to the motto of the Company:
" Cooperating for Development "